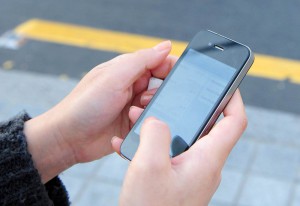 The Intimidation Wears Off
More and more are we getting used to the Mobile Personal Computer a.k.a. Smart-Phone. In fact, with some people it has already grown into an additional limb. We call, we chat, we update our status and message each other all day long. Being the social animals that we are, the social aspect is what appeals most, and rightfully so. With the Smart-Phone, communication has taken on the speed of light. Instantly we are in touch with the whole world. oh and Games…..We like to play games on the Smart-Phone. No matter why or how we get familiar with the Smart-Phone, fact is that we do. Through socializing and gaming we are slowly easing ourselves into the world of mobile computing. Always on hand, always ready when you are. Now, if you feel you're ready to explore some more good stuff on the Smart-Phone, then the following is probably one of the most useful features you will encounter.
Where Things Are
One real convenient thing a Smart-Phone can do is to tell you were things are. How cool is that. No more searching. Why wasn't this available sooner you say? That is because mapping indoor environments and digitizing it in a way that we can use it for wayfinding, is not an easy task. Heck, Google and Microsoft would have done it long ago if it was that easy! And they have hundreds of very intelligent programmers! But we did it, here at here2there wayfinding software we worked on it since 2008. And we solved the puzzle so that now it is real easy for us to map and manage every size project and utilize it for digital wayfinding. Even if it has millions of destinations. Time for a few examples of which problems it will solve: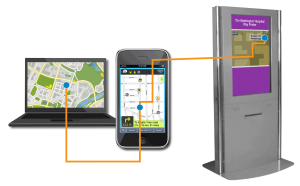 The Hardware Store
Imagine being in the hardware store, with your list, and trying to find your way around. Sure, it is good exercise walking around the store a couple of times, but what if you don't have the time or aren't just that patient enough? Wouldn't it be great to have a wayfinder app on your phone that automatically compiles the shortest route?
The Hospital
Yeah, this is an easy one. After all, we have installed our wayfinding system already at several hospitals. Anyway, here goes:
It probably starts with trying to find a parking spot that is closest to the entrance you need to take.
Then the directions to the nearest rest-room (Hey, it was a long trip!)
Check-In desk?
Route to the Lab?
After that the route to doctor such and such?
Woohoo, great, its over.
Uh..oh, now where did you park the car?
University
To best describe this topic let me recap a project we have done for a University in Philadelphia. The digital wayfinding task was initiated by the Department of Disability and the reason was that since their Campus is old, the accessible entrances are different from the ordinary entrances. With over 100 buildings on their main campus, a challenging task for the mobile impaired.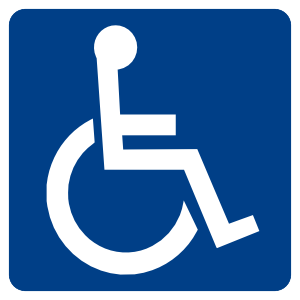 But, just as easily solved with a mobile wayfinder. So now they have two sets of directions, one ordinary and one for the mobile impaired. And they have the wayfinder on all Smart-Phones, a Kiosk in the main building and on the Web. So, all the basis are covered. Couple of additional benefits:
Snow routes are pre-programmed and can be activated with just one click.
Same goes for Move-In-Day routes and Parents Day routes.
And one of the first new features will be the multi-lingual offering.
Parks, Casino's, Libraries, Historical Cemeteries, Bus Station (We just finished a large project for NYC), Airports (Starting soon on our largest project ever), you name it. People need directions everywhere.
Positioning System
I don't see the value of integrating an automatic positioning system. It easily doubles the cost and it's just a lot or extra hassle. And more importantly, it is not necessary. People can easily indicate were they start from. 2 more disadvantages:
People don't like to be tracked
The existing positioning system technologies lack the reliability
iBeacon
This is an interesting development. Kathryn told me about it the other day and apparently Amanda is looking for implementations at Musea. Can't wait to see what she comes up with. In the meantime I have seen a couple of presentations and it looks like a good fit with Digital Wayfinding. So much so that I think it will be the next article. Keep an eye out. May 22, 2014 'Where Things Are'