This article is about the choice of a Mobile Web App or Dedicated App for the mobile phone when it comes to choosing a wayfinding software platform for indoor environments.
At first sight there seems to be no difference. In some way, they both will do the job, which is providing a navigation tool for the customer. However, investment-wise, one is about 5 times more expensive than the other. The Mobile Web being the cheaper option.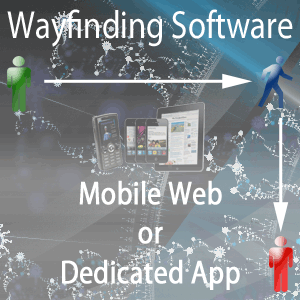 The Difference
Mobile Web: uses the browser, which is present on all cellphones, as a platform.
Dedicated: uses a dedicated app, which has to be developed for Android & Apple.
Wayfinding Software
Purpose
The purpose of wayfinding software is to provide a tool to your visitors through their personal cellphone. This tool provides a way to look for departments, products, restrooms, stores, ATM's and other locations that may be of interest to your visitors.
Inside buildings this wayfinding software is especially useful since GPS doesn't work there, As such, using the standard wayfinding tools on the mobile phone is not an option.
Mobile Web
Visitors may not want to download an app for a location they do not frequently visit. The mobile web site offers a high level of convenience and makes it easy for your visitors to get the information they need without having to install an additional app.
The development time and, by extension, cost for a mobile web site is significantly less than it is for a dedicated app. The need to program for different operating systems (Android, iOS, Windows Mobile) is not necessary, although you should be checking cross-browser compatibility.
Updating is also much more simple. Saving the wayfinding software update to your web server makes it immediately available the next time the page is loaded.
The functionality of a Wayfinding Kiosk can be easily extended when using a Mobile Web site. By scanning a QR Code your visitor can load the Mobile Web site on their device and have it show their selected directions without entering anything on their phone.
Dedicated App
To start off, a Dedicated App is an app that is dedicated to the information that you wish to provide for your location, not necessarily dedicated to wayfinding. Wayfinding can be only one component of an app that provides menus, schedules, contact information, reminders or any other functionality that you desire. In fact, wayfinding software can be integrated into any app that you may already have.
Additional functionality can be added to the wayfinding by accessing the hardware components of the smartphone when using a Dedicated App. The use of the compass, Bluetooth, and other sensors can be combined to provide a "blue dot" navigation system, allowing the visitor to see where they are on the map. In addition, notifications can be presented to the visitor as they pass locations within the location.
There are a few things to consider before deciding on building a new Dedicated App. Some have already been mentioned when discussing the Mobile Web site, but they bear repeating.
Greater Cost: Although tools are available to assist with creating multi-platform apps, there is additional development time required to bring the app to market.
Distribution: The app will need to be deployed to different App Stores for different platforms. Each App Store has its own review procedure as well as fees to post.
Updates: Every time an update needs to be pushed out, it will again need to go to the different App Stores, and then wait for the device to pull the update. If additional permissions are required, they will need to be presented to the user prior to the update being installed.
Download Required: Finding and downloading an app for a location that is infrequently visited is not necessarily appealing, particularly since many people feel that they have already too many apps installed. Android and Microsoft are already combining their own apps into folders or single launch icons.
Download Required
A dedicated app needs to be downloaded and installed by the user. This is a huge decision for the customer who has already a lot of apps on the cellphone. So intens marketing efforts are required that clearly outlines the benefits.
This is always an issue, but with 5 times as much invested, there is also 5 times as much motivation to have the user actually download the app.
Too many apps already
Persuading the customer to download another app will become harder and harder as time goes by. The number of mobile apps we are going to have on our phone will be insane. For some of us, the number of app icons on our phone is already hitting the roof for normal use and control.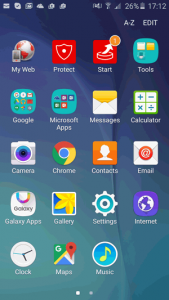 Exactly for this reason, Android already combined its own apps into one icon. Same with the Microsoft apps and others. Too many apps is a problem already in motion.
Physical Web
The problem of too many apps has lead Google to push forward the concept of the Physical Web. The Physical Web allows the web browser on the smartphone to be more intelligent and have the ability to receive notifications from other devices, such as beacons, that are in the area.
The Physical Web provides a strong middle ground between the Mobile Web site and the Dedicated App. Although not all of the sensors on the smartphone would be available, the wayfinding software interface as a mobile web site can interact with beacons using the Eddystone-URL format.
Beacons
Google Chrome, through the Eddystone-URL protocol, can already receive Beacon Signals. Using this technology for indoor positioning can provide a similar results as GPS does outdoors.

In addition to opening the door to real-time indoor positioning, features such as asset tracking and location based notifications become possible.
Anonymous visitor tracking can provide heat maps that can help improve traffic flow or product positioning.
Not all Sunshine
A constant internet connection is needed for either the Mobile Web site or the Dedicated App. Without one, directions will not be able to be requested or updated. Local WiFi access can be used if a strong mobile data connection is unavailable.
As more and more locations start to provide WiFi access, either paid or free, this will become less of an issue. Locations that wish to charge for the access to their WiFi can still provide wayfinding for free by opening their network to the Dedicated App or the Mobile Web site.
Conclusion
The best platform on which to build your wayfinding software solution is best determined by the features that you desire to provide to your visitors in conjunction with your budget. Keep the future in mind with bug fixes and updates, as well as improvements in technology.
The Mobile Web and Dedicated App do not need to be completely separate entities. Consider exploring the possibilities of hybrid apps than can meld the 2 technologies together.
Here2There Software
Contact us at:
www.globalsoftwareapplications.com
www.here2theresoftware.com
Wayfinding Software