Introduction
A wayfinding system inside your building consists of fixed directional signage; arrows throughout the building, a directory on the wall at the entrance, maybe even colored lines on the floor indicating directions to a certain department.
Challenges
Sometimes fixed signage just can't seem to solve the ongoing wayfinding challenges inside your building. It's also an expensive and sluggish process, always one or two steps behind. And in the meantime visitors get frustrated and lost all the time.
You need a more flexible wayfinding system. Something that allows you to implement changes on-the-fly. Something that you can do yourself and doesn't cost you an arm and a leg each time you require a change.
There is a new-kid-on-the-block and its name is Digital Signage. Digital Wayfinding to be more precise. Flexible, versatile, feature rich, cheaper and faster.
Technology
Looking at the technology available at the present time, digital wayfinding could completely replace static directional signage inside buildings. Just think about a wayfinding system on a smartphone that provides directions from A to B; a touch screen wayfinding system on-site or a wayfinding system connected to your Homepage.
However, a good wayfinding solution is not only about what the technology can and cannot do. It will have to be used. The best wayfinding solution will not be used if people can't use it, don't know about it or if it is too complicated to use.
Mobile wayfinding: Personal and On-Demand
Nielsen tells us that by the end of February 2012, 49.7% of the US mobile phone users had a smartphone. Source. I feel that this number will be higher in other countries.
All around, the need for a 'personal service on demand' will grow at lightning speed. The personal device, such as a smartphone, answers to this need. Hence the sales and use of smartphone will increase at lightning speed as well. Wayfinding systems will need to jump on the mobile wagon to immediately service a large a growing part of the audience.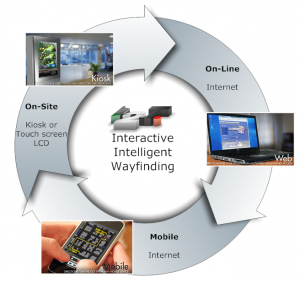 Wayfinding System
Let your visitors know
Advertise to your audience if you have a wayfinding system of your building available for mobile use (web site, appointment papers, etc). They will be able to find it. Post a QR code at the entrance of your building or exit of your parking lot that automatically fires up the wayfinding system. This will make it easier to use.
Digital Wayfinding systems will be embraced if you take 'the work' out of it.
Touch Screen wayfinding: On-Site
Touch screen wayfinding systems will cater to another big part of your visitors. Install them in a way so that they are easy to spot, and that they are obvious in their intend. Show clearly on the screen what the touch screen service is for.
Companies who have their roots in the Digital Signage Industry often tend to go haywire with offering all kinds of contend on the digital signage screen. Because after all, the sky is the limit. "…and somewhere in between all that clutter is a link to a wayfinding system as well…" Result: It will only be used by people with a lot of patience.
Equip the touch screen with a printer so that the public can print the route. Or supply a QR code of the route on the screen that people can scan to their mobile.
Wayfinding on the Web
A wayfinding system connected to your Homepage will cater to the last part of the audience. One option is for the people that like to pre-plan their trip in the comfort of their home. And print it out for later reference. Another option is to have this web wayfinding system running on strategical PC's of the staff. A good portion of the people just like personal assistance and go immediatly to the counter. The staff member behind the counter can explain the route and print the directions out for the visitor, using this web app.
Conclusion
A good 'all-round' wayfinding system will consists of a combination of static and digital signage. Digital wayfinding greatly adds to the customer services, safety and security of the audience. It picks up where static signage leaves off and can simply do more. Staff can now make updates to the system themselves and have it diplayed immediately. Digital Wayfinding Systems empower the visitor and staff.
However, the public doesn't expect it yet and will not be looking for it inside your building. They are also not used (yet) as to how it works and what they can do with it.
As long as these challenges are taken into consideration, they can be overcome. If neglected, only more confusion is the result.
Contact:
www.here2theresoftware.com
support@here2theresoftware.com
Wayfinding Software
814 – 342 – 3120