The hospitality kiosk is a universal guest services solution for your hotel, resort, and casino. The kiosk is twenty-four/seven operational and accessible through mobile platforms. Kiosks are also designed for ease of use for those with visual or hearing impairments. It is a virtual concierge that acts as a second front desk, offering real time information for travelers who are constantly on the go.
The hospitality kiosk is an all-in-one solution and includes hardware, software, installation, service and support. Hotels are able to tailor offered services based on the uniqueness of the property.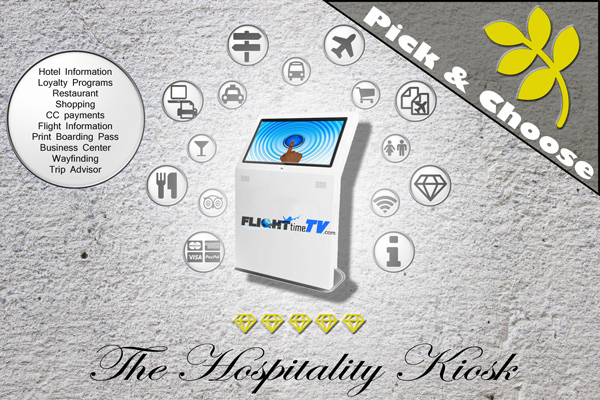 Choose your own guest services on the hospitality kiosk
The whole field of guest services is present. It ranges from specific hotel information, your loyalty programs, business-center services, real-time flight information, boarding pass printing, and wayfinding just to name a few.
Just pick and choose which guest services are the most desired for your hotel.

General hotel information
This button covers all the general information of your hotel. Examples include: front-desk services, check-in and check-out information, room-delivery services, safety and security and so forth.
All installed services can be updated through a content management system available locally, at your hotel, or at the corporate offices.

Loyalty Programs
Guest loyalty programs may be accessed directly. Guest can update their status, check for special offers, and sign-up for instant participation.

Event Calendar
Many hotels choose to add an event calendar to their hospitality kiosk. Information for hotel events and other attractions located within the general vicinity are often displayed.

Restaurant
Guests have direct access to restaurant information including hours of operation, daily specials, and menu information.

Coffee
This service allows you to tell your guest where and when to get coffee, whether it is in your own hotel or a shop nearby.

Conventions
Information regarding dates and descriptions of conventions and shows being held at the hotel or nearby convention center may be displayed. Optional sign-up/sign-in, pay, presenters' notes, and routes can also be included.

Business Center Services
Hardware, software, installation, service and customer hotline are available. Over a thousand hotel and resort properties have our business center solutions. Our technical development and support team monitor and maintain those systems daily.
Some names of installations are the Hyatt, Starwood, Best Western, Walt Disney, Choice, Sheraton, Marriott, and so forth. Ask for references!

Flight Information
Provides real-time flight information on kiosk, LCD and in-room on the TV-network.
We collect the data of all airports and airlines in the world and display them in your hotel. This includes arrival and departure notices as well as delays and cancellations.
Many hotels in metropolitan areas include this service for their guest.

Print Boarding Pass
Providing boarding pass printing provides flexibility for travelers who must adhere to strict itineraries.

Bagage Storage
Guests may obtain information regarding how to store baggage through this selection. Link includes everything your guest needs to know, such as locations, access routes, and size / amount requirements.

Shopping
This button may be used by properties that house their own shopping area. Guests can order and pay directly through the kiosk.

Restrooms / Refreshment
Provide your guests with directions to restrooms, both non-accessible and accessible. This amenity is especially important in larger properties. Routes and text directions can be displayed and sent to mobile platforms.

Accessibility
This option on the hospitality kiosk is meant to inform guests in regards to the accessibility provisions you have taken. Adjustments can be made to allow the user to request extra assistance.

Public Transport
Selection provides schedules and routes to public transportation options in your area. Hotel shuttle service information is often included.

Taxi
Selection contains descriptions of the various available taxi services, including UBER. An option to reserve taxi transportation may be included.

Trip Advisor
Many (and positive) references of your hotel are great for your online reputation. This direct connection with Trip Advisor makes it simple for your guest to leave a comment.

Hotel WIFI
Topping the list of frequently asked questions is how the guest can connect to your WIFI. Providing this notification through the hospitality kiosk makes this information readily available, even when the front counter is closed.

ATM
The kiosks can be tailored to provide locations and routes to available ATMs. This feature has proven quite convenient for guests, especially when they are staying in larger hotel properties.

Wayfinding
Wayfinding allows access to locations and routes to all possible points of interest within your building or on the property grounds. The provided route information can easily be scanned to the cell phone for guidance along the way.

CC-payments
The hospitality kiosk can be used as a payment processor for various purposes. It accepts all major credit-cards and Paypal.
CMS
All contents are either updated automatically (i.e. flight information) or can be administered through the content management system.
Ron Koning
Flight Time TV (USA)
Wayfinding Software