Kiosks, LCD screens and In-Room information systems, collectively called digital signage, is a common appearance in hotels these days. The traveler expects no less.
Flight Information
In urban areas, the most popular feature is real-time flight information. Flight schedules are displayed through LCD screens located in the lobby and through in-room TV networks. It not only informs the guest of delays and cancellations but allows the guests to extend their stays if need be, increasing hotel revenue.
In-House Amenities
Digital signage allows the publishing of in- house amenities and hotel services through content management systems. For example, properties can post information on spa services, dining options, and entertainment.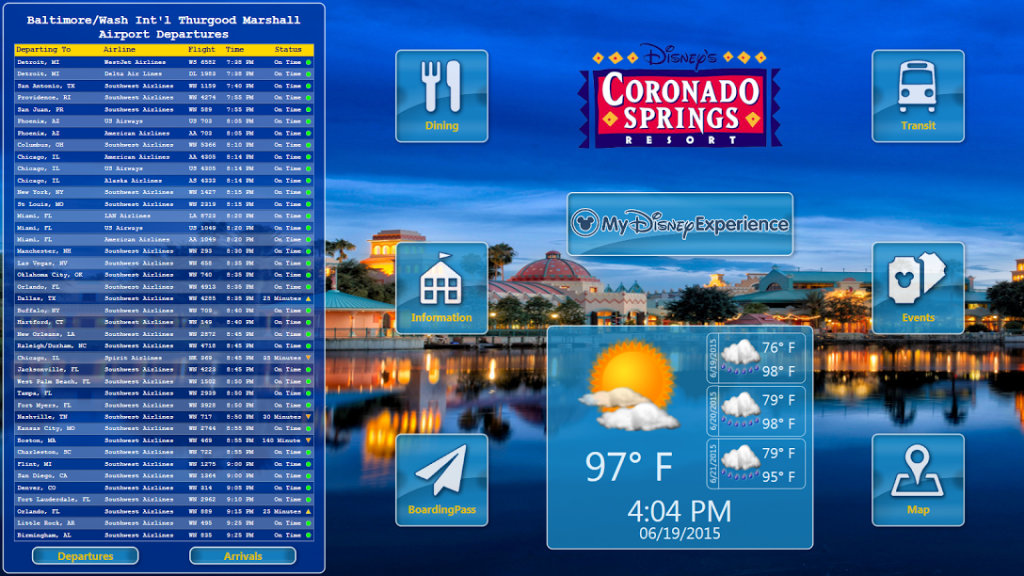 News, Traffic & Weather
Many properties choose enhance this assortment of features with news, traffic, and weather information. A live internet connection guarantees a real-time broadcast of these services.
Instant Broadcast
Since the display is just a huge billboard that can quickly present information, digital signage is often used to broadcast targeted messages ensuring the safety and security of hotel guests and area staff.
Lobby
Digital signage is often broadcast on kiosk or LCD screens. These amenities are placed in the lobby as an additional welcome to hotel patrons.
Wall mounted LCD Displays: LCD screens require a dedicated wall space. The screens can be interactive as well, although some properties may choose the kiosk option to allow for guest privacy.
Stand-Alone Kiosks: Kiosks work well for check-in services and administering guest loyalty programs. Kiosks are interactive, provide privacy, and can be easily integrated with a printer. They are also well suited for wayfinding purposes.
Kiosk/LCD Hybrid: Kiosks with large LCD screens, up to 50″ are mostly meant for general information and inquiry services. Information about property services and unique points of interest can be generated. For situations regarding maintenance, a "Help" button may also be placed.
Properties often dedicate space on the display for promotional offers from in-house spas, restaurants, and other neighborhood attractions.
In-Room
Guest room TV's are the designated medium for digital signage, each with their own dedicated channel. Flight information, hotel services and On-Demand TV are some of the features we often see here.
Content Management
The content of all these displays can be managed centrally from the corporate office, locally at the property itself, or a combination of both.
Some services are self-managed, like wayfinding or check-in services. Others, like the flight information service, pull the content directly from the FAA, airports and runways.
Flight Time TV
Flight Time TV is one of the largest full-service providers in the United States of digital signage solutions for the hospitality industry.
Ron Koning, Arpril 2016
www.flighttimetv.com
Wayfinding Software